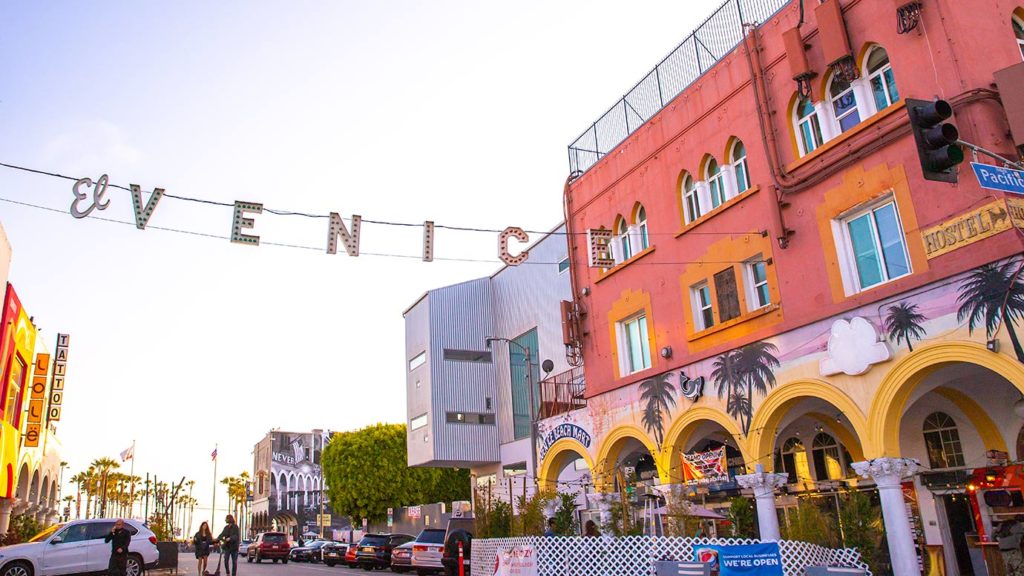 Coachella weekend you say? Well, if you're going out into the desert valley, you do not need us to point the way. You have the tickets in hand. You know what parties you're going to. What we all need is a guide against Coachella. Easter Guide. This guide.
To that end, April 15-17 in Los Angeles you will find new exhibits at Skirball, a Moonlight listening experience at LA National Park, the Venice Art Walk Gallery premiere, Odd Nights at The Autry, Your (Un) Natural Garden in the Gardens Descenso, the Animal Blessing on Olvera Street, the launch of barbecue books, a massive Easter egg hunt in Santa Anita and lots of Easter brunch ideas. Start down to scan your options. Enjoy your weekend.
Things to Do
New exhibitions in Skyball -> Two new exhibitions Open today At the Skirball Cultural Center, both are well rooted in the immigrant experience. "I will get what she has": The Jewish deli Traces the experience of Jewish immigrants in America through the lens of the deli, meanwhile Talking Back to Power: Projects by Aram Han Sifuentes Focuses on stories of immigrant clothing workers in the United States. You will find here a preview of the new exhibits.
Listening by Moonrise -> Clockshop's quarterly Listening By Moonrise program returns to LA State Historic Park Friday With a sweeping performance and sound experiences featuring multidisciplinary sound artists. Participate for free, with a suggested donation of $ 5. More information here.
Venice Clinic Walking Art -> start it Friday, Check out (and bid for) over 200 artworks at the Venice Art Gallery (Santa Monica Place 395) as part of the Venice Family Clinic's benefits sale. The gallery is open daily from noon until 6pm until May 1st. Admission is free. More information here.
Race and State: Buffalo Soldiers in California -> A new exhibit opened this week at the African American Museum of California explores the Golden State's ties with members of the All-Black U.S. Army Battalion, often featured in mythologies in popular culture, film and music. Admission to CAAM is free. Learn more here.
Strange nights at Ottery. -> A strange night at "Otter" will run every Tuesday Friday Of the month starting in April. Expect an indie bazaar populated with 80+ unique vendors, food trucks and live music. More information here.
"The King of Ranchers" -> This Friday, La Plaza de Cultura y Artes, will host a musical tribute to the late Mexican singer Vicente Fernandez. Enjoy Mariachi music featuring Mariachi Angels de Pepe Martinez Jr. and Las Calibri, plus drinks and snacks for sale on site. Doors open at 6:30 p.m. Free to attend. More information here.
Euphoria dance party -> There's a dance party about euphoria Friday At Bordner's in Hollywood. Watch for two live DJ rooms and a live performance by Doll Klaw, all in a Club Decades performance.
The association's cocktail circles -> Mixologists at The Association at DTLA instruct guests on an hour-long cocktail course that includes tastings of three to four craft cocktails, plus a social hour to follow, which includes special pricing on the cocktail offering. Rates $ 40. More information here
Art on Montana Avenue -> Looking for a destination for an evening trip? Bright Art has taken over the Montana business district this month, with ficus trees along Montana Avenue being converted (one per block) into pop-up art facilities. Scoop works on everything from whimsical and whimsical flowers to hanging lanterns, chandeliers and stained glass windows. The facilities will remain in place until September, so you have plenty of time to plan a summer trip. More information here.
Your (non) natural gene -> This Saturday, Opens a new experience in the Descanso Gardens created by Adam Schwarner, and offers colorful and interactive pop-up works located within the Sturt Haaga Gallery, Boddy House, and throughout the rest of the garden. It opens on April 16 and will last until January 8, 2023. Included at the entrance to the garden. More information here.
The Blessing of the Animals -> This Saturday, The annual animal blessing on Olvera Street returns with a personal person for the first time since the plague broke out. Archbishop Jose Gomez will be on hand to offer a blessing between 2pm and 3pm, and entertainment takes place from noon to 4pm. More information here.
Earth Day Festival -> April 22 is officially Earth Day this year, but you can celebrate it Saturday With a free festival held at Will Rogers National Park. Watch vegan food trucks, live music, free yoga classes, kids activities and specialty vendors. Admission is free, but parking will be charged at $ 3 per hour or $ 12 all day. More information here.
San Fernando Outdoor Market -> 25 storefronts and 70+ vendors will participate in this monthly night market in the city of San Fernando, starting this coming Saturday, April 16th and continuing on May 21st and June 25th. More information here.
The burlesque of Hells Belle -> North Hollywood Idle Hour Cocktail Bar welcomes Hells Belles Burlesque to this patio Saturday A night starting at 19:30 More info here.
Renaissance Pleasure Fair -> Continues with this Saturday and Sunday, Ran-Pierre enthusiasts can expect more than 100 artisans, merchants and vendors, in addition to costume contests, games, riding, dining and more, all taking place in the Santa Fe Dam resort area from April 9th ​​to May 22nd. Adult Single – Admission per day starts at $ 38. More information here.
Easy morning at Grand Park (As of April 16) -> Easily connect Sundays With some family-friendly programming in Grand Park starting at 10 p.m. Pop-up activities are scheduled for April 16, 23 and 30. More information here.
Advertisements
Easter egg hunt in Santa Anita-> It SundaySanta Anita Park will host an Easter egg hunt that includes over 35,000 Easter eggs. The Sunday event of Easter will also include arts and crafts, egg and sand art decoration, carnival tours, a pony ride and a goat exhibit. Admission to the field is $ 5, and each Easter Hunt package is $ 4. Get more information here.
Food
Book launch party and Bludso's dinner party -> On the occasion of the release of his first cookbook, "The Bludso BBQ Cookbook: A Family Affair in Smoke and the Soul", Kevin Bludso will host a launch event at this Bludso's Bar & Que Saturday, April 16th. Quinn will be joined by industry friends to cook items straight from the new cooking number. A look at Bludso's Instagram post shows that there are at least 10 delightful items on the party menu, including Wagyu Brisket, Smoked Leg of Lamb in Sauce and Queen Rib Tips. Tickets go out quickly for this event and cost $ 95 A person. Each guest will also receive a signed copy of Bludso's new cookbook with their card.
Put an egg on all day in Smorgasburg Los Angeles -> Smorgasburg is open on Easter Sunday and will host the annual "Put An Egg On Everything Day" where a number of vendors will add egg-themed specials to their menus. Highlights include Evil Cooks' famous burrito chilkis stuffed with Los Plate-made potato plums; Bongkus with Egg from Bungkus Bagus; Breakfast sandwich from a picnic sandwich; And Vietnamese egg coffee from Be Bright Coffee. In addition, Compton Queen's Pit Master in Lodz will be on site selling and signing copies of his new cookbook.Bludso's BBQ Cookbook(See above) while offering its own BBQ promotions to the public.
Key Workshoptchen Bar And light coffee Pop up Ahead of the opening of Workshop Kitchen & Bar in Los Angeles next month, the hot spot in the acclaimed Palm Springs will partner with Mauro Café on some special pizzas on Saturday, April 16th. The chef and owner of Workshop Kitchen & Bar, Michael Beckman will move his wood-burning stove just for the pop-up. The price of each pie is $ 24, natural wines will flow at $ 13 per glass, fun starts at 5pm
Wags & Brunch at the Viceroy of Santa Monica -> Sugar Palm at King Santa Monica's House launches "Wags & Brunch" this weekend in honor of National Pet Day. While the owners sip a cocktail, their four-legged friends can enjoy a "puppy tail" like Lady & The Tramp made from coconut water, sliced ​​pink lady apples and parsley. A selection of main courses for dogs are also available including a puppy rooster from eggs, spinach and grated chicken. The new dog menu will be available Friday through Sunday from 6:30 a.m. to 2:30 p.m.
Easter menus for your consideration
Warm green -> Caldo Verde at the Proper Hotel in Downtown Los Angeles will host a special Easter Sunday brunch menu, curated by the award-winning Culinary Partnership of James Byrd, Susan Goin and Caroline Stein. Guests are treated to a lively menu of Portuguese-inspired dishes starting with market fruits, crab eggs and chorizo ​​manchego scones for the table, a choice of main course like spring frittata or fire brisket and extravaganzas of holiday desserts of multiple sweet bites. Brunch is offered exclusively from 10:00 to 14:30 and costs $ 95 per person, $ 45 for children under 12.
Restaurant FIG & God Fairmont Miramar Hotel and Bungalows -> On Easter Sunday, FIG Restaurant and the Fairmont Miramar Hotel & Bungalows in Santa Monica will host the 'Mirmar Easter Egg Hunting Gardens' along with a spring-inspired brunch menu. The event takes place from 11:30 to 15:00 Reservations can be made by calling 310.319.3111.
Advertisements
AYCE at Le Jardin on the Riviera 31 -> Celebrate Easter Sunday at the Sofitel Los Angeles in Beverly Hills, the whimsical outdoor garden space of the Le Jardin hotels on the Riviera 31 will host Easter-themed activities and an as-you-can-eat brunch menu that includes jumbo crab cakes, Omega Deviled eggs for Carnitas Eggs Benedict and basil lamp lamp. AYCE brunch costs $ 65, for $ 95 adults can add bottomless drinks like Mimosas or Bellinis, kids ages 5-12 cost $ 45 and kids under five eat for free.
Cork Durk -> Cork Durk will host an Easter brunch on Sunday from 10:00 to 14:00. Cork Durk's Easter menu includes à la carte items including challah French toast with mixed berries; Shakshuka with toasted flatbread and biscuits and sage Gruyere sauce.
Redbird -> Easter Sunday brunch at Redbrid in downtown Los Angeles takes place in the main open-air dining room, indoor lounge and outdoor garden. Chef Neil Fraser and staff will prepare a two-course prix fixe menu that includes entrees like white asparagus at Yuzo Hollandeys and main courses that include Duck Confit Chillkills and Main Lobster Conji. Kids also get their own holiday menu. The brunch takes place from 10:00 to 14:00 and costs $ 65 per person and $ 21 for children aged 10 and under.
---
Any comments or corrections? Want to suggest an event worth adding to your next list? Contact us at tips@welikela.com.
Advertisements